Topics covered in this article:
Click here to watch a video that gives a brief overview of the search, or read the article below.  
1. To access the new funding search page, click on Funding Search under the Funding tab.
2. Search through the funding activity database (purple), program reports (blue) and tenders, grants and open opportunities (orange), and contract awards (green) separately or at once by selecting or deselecting the related boxes. You can differentiate the reports in the list of results by the colored line on the left of each opportunity title.
What is the difference between the reports?
The funding activity report database contains information throughout the funding cycle such as press releases at the very early stage, media coverage, donor country strategies, operational updates and direct insights from our team based on outreach to major donors, foundations, private sector entities, media, and philanthropies. You can find information related to new loan approvals, partnership announcements or funding related initiatives in this database.
A donor releases a program report before the tendering process begins. The report shares project details like background, components, total budget and possible sectors of engagement.
Tenders are then released under the umbrella of this program report, there may be a number of separate tenders released calling for proposals for particular segments of the project, or just one for the entire project. 
Contract awards include information on recently awarded projects. If you filter based on Contract Awards you can also access shortlist reports, this lists the organizations shortlisted for a particular project.
For more information on these different reports, read this article.
3. Refine your search by using the same filters as we had in the old search page, and Boolean search terms. 
If you want to search for funding in a number countries in the same region it's better to include the region name (e.g. West Africa) rather than all the specific countries in the search box.
The filters that are visible depend on which reports you would like to search through. For example, if you would just like to search through the tenders, grants and open opportunities, the filters include report type, status, opportunity size category, deadline date, and last updated date. If you combine program reports and tenders, grants, and open opportunities, in the search, you can only access those filters that are common to both reports. In this case, all of the above filters except for deadline date and report type as program reports never include either of these details.
Note: please see this link to all the funding sources we currently track.
4. Skim through the results, and click to see the full text of the opportunity on the right, without  having to leave the page. This allows you to assess the relevance of opportunities quicker.
Create, edit, activate and deactivate an alert
5. Create an alert by firstly running a search, and then clicking "Create Alert" at the top of the page. You then choose how often you would like to receive it, and name it.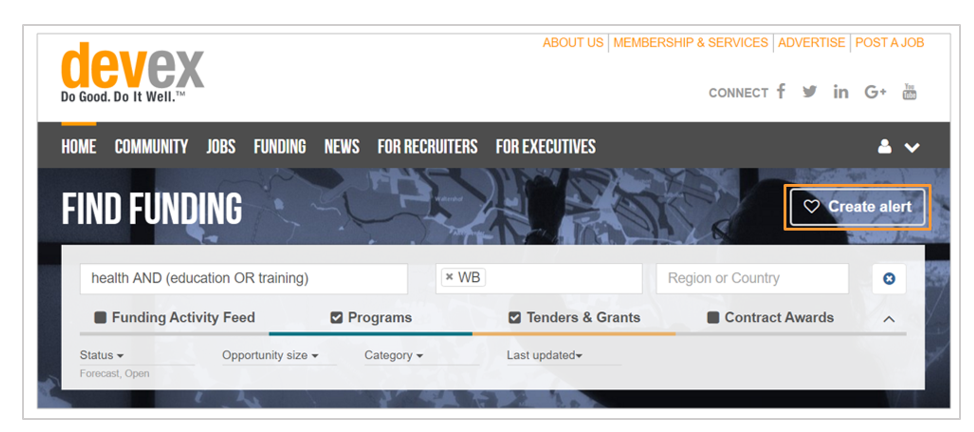 6. Review your alerts, activate or deactivate them by clicking on the "alerts" button at the top of the list of search results. The blue icons on the right allow you edit and delete alerts.
If you have a company rather than individual membership, you can review your colleagues' alerts by clicking on "Shared alerts". You can even activate an alert based on the criteria they have set-up.
It's only possible to deactivate or delete your own alerts.
7. Update your alert by clicking on it on the list, making the necessary changes to the keywords or filters, and clicking "update alert".

 Track or send a report by email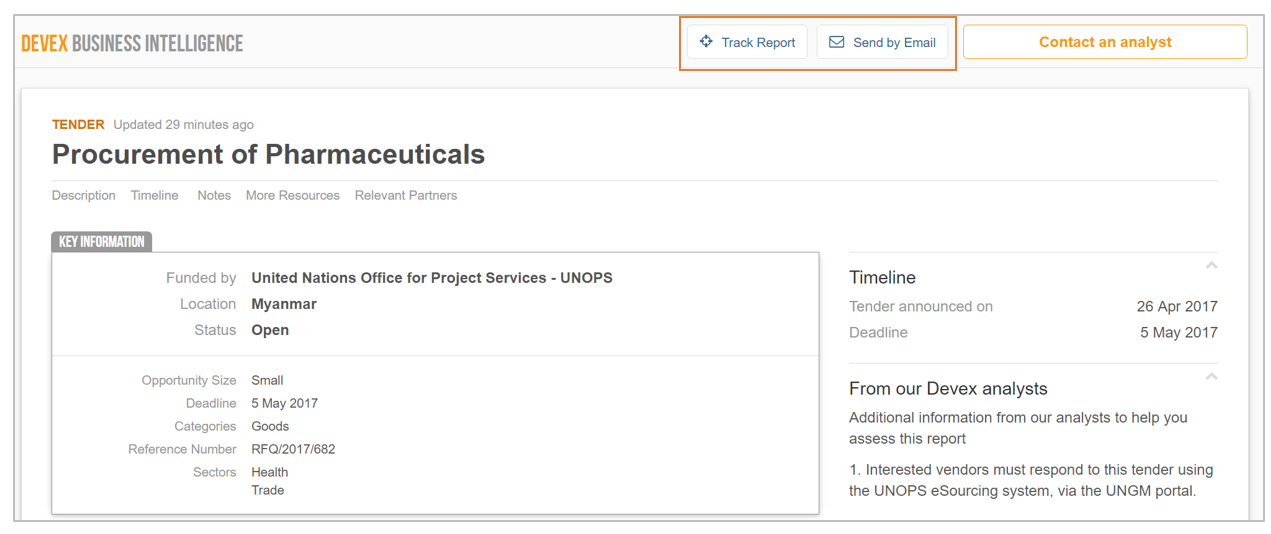 8. Many users track reports so that they receive email notifications when there has been an update on a report, and so that they can manage the reports they are interested in.
All tracked reports are listed on your individual Funding Dashboard . It can be useful to see a list of those reports you have tracked as a reminder of those of interest. You can also see those tracked by your colleagues, aiming to help you collaborate better.
You can send a report by email to someone by clicking on the button with the envelope, the recipient will be able to access it if they sign-in to Devex.
Note: Associate Members or Community Members have a very limited number of funding report views each month, so if the recipient can't view it it may be due them not having access.
9. The Devex team of analysts are experts on the current funding sectors. They're continuously monitoring donor websites and media sources to ensure the Devex content is as up to date and useful as possible. If you have a specific question about a particular funding opportunity, feel free to get in touch with them.
Here are some examples of the types of questions that they can help you with:
Which program is this tender related to?
Have contract awards been already issued under the umbrella of the program?
There are no donor contact details on this report, could you help me find them? 
Broader questions such as "how do I apply for this funding?" are usually answered within the tender document, and so it's better to consult that than ask them this type of question.
Source timeline, donor contact and relevant partners information
10. The timeline information is a critical piece of knowledge regarding the project, it can be accessed on the body of the tender document. Should you have a question you would like to post to the donor about the project you can source the email address of the contact for this particular project underneath the timeline details.
11. The list of relevant partners is a good indicator of the larger organizations that may be interested in  this project, they are listed based on their past project experience.
This is not a 100% accurate list of those that are definitely pursuing the project, but it is an indicator. We advise members that are interested in knowing more about which organizations have worked with particular donors on topics in the past to consult the contract awards database.