As one of the world's largest global development job board, using Devex in finding your next opportunity is a great first step towards meeting your next career goal.
Topics covered in this article:
Using the job board
To get started, point your mouse over Jobs then click on Find a job.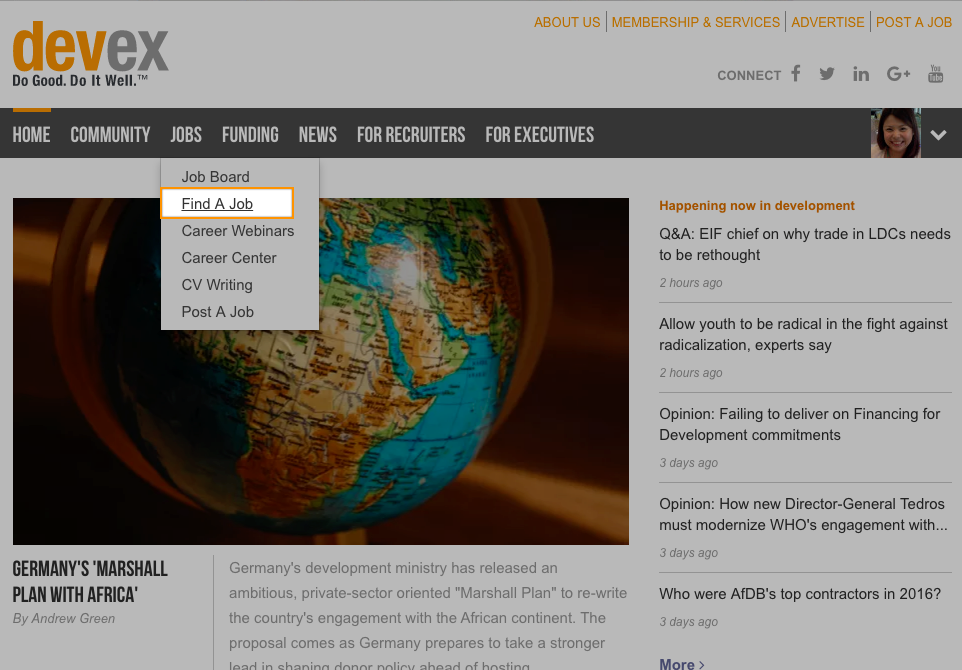 On the next page you can see the total number of open position available. To search, you can use keywords and/or combine them with filters such as job location, job title, organization name among others to refine your search results.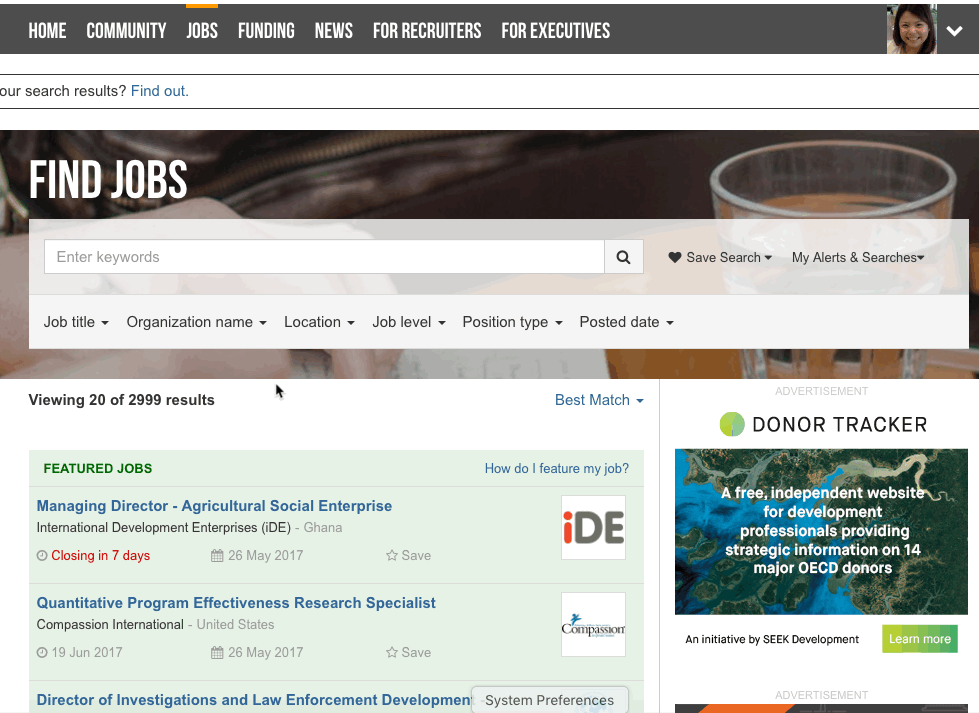 If you are interested in browsing for specific positions, say volunteer opportunities, or short-term contract assignments, you can use the job filters alone to do a search.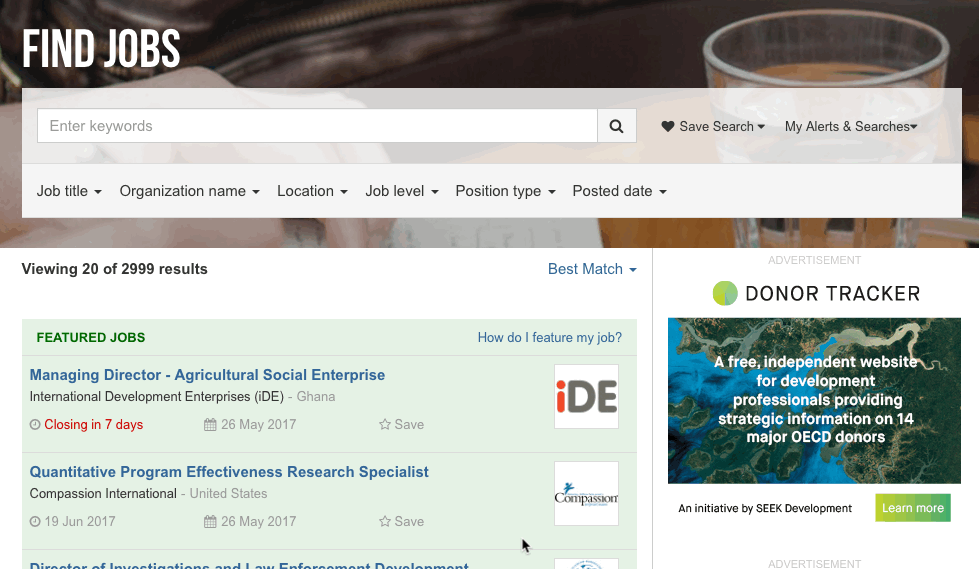 Some members prefer to browse through the list of recently posted positions without any additional filters. You can do this by using the Posted date drop-down to view the job ads either in the last 24 hours or the past week. 
From the job results list, you can save the filters you've added by clicking on Save search.
You can see the searches you've saved on the My alerts & searches drop down list. 
Create a job alert
There are 2 ways to create a job alert from the job search page:
1. Click on the Create Alert button from the search result list*
2. Click on the Activate alert from the My alerts and searches drop down list**
*Allows you to select the alert name and alert email frequency (daily or weekly)
**Alerts created using this step are sent weekly by default
Save a job ad
In browsing through the job board, you may find an opportunity that interests you, but you're just not ready to submit an application. You can save these jobs for later by clicking on Save from the job list or the Save for later button from the job description page. 
You can view the job ads you've saved by clicking on View beside the My Folders section of the user menu.
The job ads you've saved from the job description page will appear in the Main Folder while the job ads you've saved from the job search list will appear in the Jobs folder.
Apply for a job
Recruiters can specify whether applicants have to complete their application on the Devex website or get redirected to the organization's internal recruitment system to complete their application. To apply for jobs, please make sure that you are logged in to your Devex account before you proceed.
For applications on the Devex website, click on the Apply Now button on the job description page:
On the next page, you can review your information, attach a new cv file or use an existing one from your profile, include a cover letter and other supporting documents.
After completing this step, click on preview application to check if you've provided complete and accurate information. At this stage you can edit your application and make any corrections, if needed. 
Click on Submit application to finalize the application process. Note that applications cannot be withdrawn or edited once you've completed your application.
You'll also receive a confirmation email that your application has been sent. To view the list of applications you've made through the Devex site, you go to to My Applications page.  
For positions where applicants are taken to the organization's internal recruitment site, you'll see a notification before getting redirected:
Please note that applications made on external websites or outside of Devex are not listed in your applications list.