A great way to get noticed by recruiters is to make sure that you keep a complete and updated profile. By doing so, you get to be part of the Devex consultant database that our recruiter members often use, to find potential candidates. 
To edit your profile, log in to your Devex account and click on Update my profile on the Devex user menu:
Edit the necessary fields and make sure to click on the Save button, before clicking on the Done Editing, to ensure that your changes will be saved. 
Important notes:
The Personal Information and Professional Summary sections should

always

be filled out completely. You might encounter data errors, if you leave these sections blank.
Do not manually fill out

the Start date and End date fields. Just click on the blank space, and use the pop-up calendar instead. Otherwise, all the information you enter will not be saved.
For the My Work and Education sections, if you want your entry to be reflected as the current/present one, the End Date field

should not be filled out

.
To do so, just click on the Start date field, select your month and year from the pop-up calendar, and then leave the End date field untouched.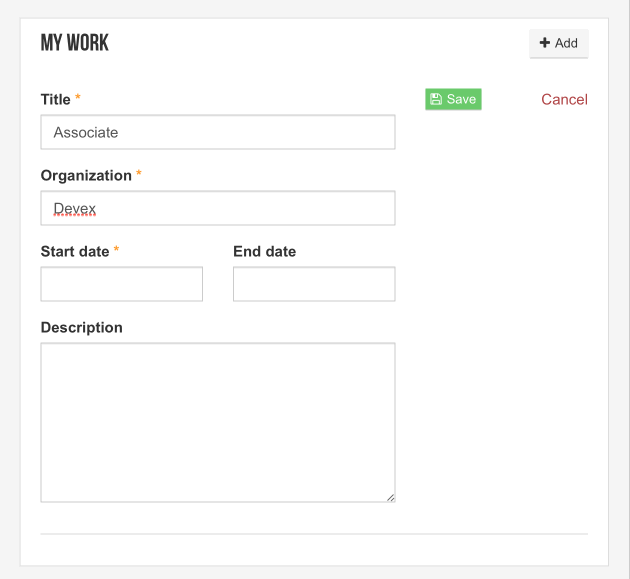 The only file types that can be uploaded to your Devex profile are the following: DOC, RTF, PDF, TXT, PPT, XLS. The maximum file size of each upload is 3MB. Not sure what your document's file type is? You may check HERE.
Make sure that you've successfully uploaded your CV!
CVs that are not uploaded properly will cause an error in job applications. To check whether your CV has been properly uploaded, you must be able to download your CV directly from your Devex profile.
To do so, just log in to your Devex account as usual, click on Update my profile on the user menu, click on the Done Editing button, scroll down to the CV Download section of your profile, and click on the Download button. You should be able to download your CV right away, otherwise, delete the currently uploaded CV, and then re-upload your CV. Don't forget to click on the Save button afterwards.